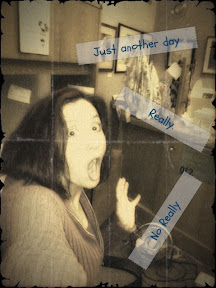 2011 will be the year I tackled my phobias. I didn't mean it to be like that; but when my chronic injuries took me away from dance, I suddenly found myself with a lot of time on my hands.
Some phobias you've already read about: housepaint, writing contracts, asking for testimonials. But here is one I've kept real close to the chest:
I am afraid of being a house mommy.
Now here's the kicker: I have been married for 13 or so years and have a 16 year old boy, but my role as a
house mommy
has been purely functional. Doing the jobs that must be done so that we can get onto something else. Sadly, there is little enjoyment when I function in this mode (for me or anyone else).
Since I've been away from dance, and particularly while my husband has been on vacation, I have had a chance to experiment with this
house mommy
concept. For instance, one day I took on a chore that usually gets pushed aside until guests are on their way:
I washed all the bedding
. I have done a bunch of other stuff I don't normally have time for like baking cookies, doing dishes, and cleaning off the kitchen table. I even organized my closest, shoe and purse collection, and started cataloging what I own.
As wonderful as this sounds, I still have great anxieties about how much enjoyment I get out of this. I also have great anxieties about being away from my old lifestyle because I am afraid of losing touch with everyone associated with dance. I have made a lot of friends in that world. Friends I don't get to see much while I'm folding sheets and baking cookies. In fact, if you were to ask me a year ago what I thought about stay-at-home Moms/Dads, I would have said, "Guess it's good for the kids, but it's hell on the grown ups."
I give props to my mom. She was a stay-at-home mom who raised me and my brother. She cleaned the house, struggled to get us to clean our rooms and do our chores, made our meals, and drove us everywhere. We said "thanks" (sometimes), but we probably weren't as appreciative as we should have been. In fact, we were down right snots sometimes. There were times when our attitudes really stressed my mother out and really who could blame her. Unfortunately, that stress communicated one message to me:
It is no fun being a house mommy.
Experience is teaching me otherwise. And my mother will tell you that while we were snots, she really did enjoy being a
house mommy
. That said my next few years as a
house mommy
will not be the same as hers. Though I am semi-retired from dance, I am still running my
Pagesculptor Studios
. I am launching several clients' websites in a few weeks, finalizing the production of
Dance Theatre Fairbanks's
Summer Solstice video, and putting the final editing touches on my novel
Rebbeca 2.1
. All my weekends are just as busy as when I had rehearsals and believe me I am never bored. I suspect my mother was never bored either; but as a kid when you're gone most of the day, it's hard to imagine what your mother does all day with her life.
I love you mom!
You did a stellar job being our
house mommy
. I can only hope that my adventure into this life is half as productive as yours.
- Remember any number to the zero power is 1.